The end of the beginning
Terra Battle, a game created by the famous Hironobu Sakaguchi and his newly formed company named Mistwalker Corporation who created The Last Story, Lost Odyssey and Blue Dragon is shutting down on June 30, 2020. Sakaguchi is famous for creating the Final Fantasy series and when he left Square Enix to form the new company, many of the talented staff there followed him, including Nobuo Uematsu, the famous Final Fantasy orchestral composer. Terra Battle It's an interesting game where you move characters around as tiles or cards in order to surround an enemy and do damage to them. You can position your team in different ways to create combos and the story and world the game takes place in is unique in a way only Sakaguchi think up. I had quite a bit of fun with the game and I'm sad to see it go. It had especially good anime style cinematic sequences. You can see the announcement here from the man himself on Twitter:
The follow up game, Terra Battle 2 was taken off of the Google Play store in June of 2018, so what exactly is the mastermind working on now that his last projects are all but dead in the water? Well, I'm glad you asked (you did, didn't you?) because it's something you probably wouldn't believe until you saw it. In fact, it's hard to believe even after you see it. It may have been the end of one chapter in Mistwalker's journey, but they were only getting started. We're going to break it down for you right here on Gaming Unboxed, but first, let's look at what they've been up to since Terra Battle.
Terra Wars – That awkward haircut stage
Mistwalker began investing their time into making hand-crafted environments and claymation characters for their next gme, Terra Wars. That's right, the characters looked like a cross between Play-Doh and real life plastic figurines. "That's cool I guess," I hear you saying and sure, it doesn't look that neat in Terra Wars. The game is a bit odd. It's a portrait style phone game that is basically an auto battler and leans heavily on the iconic sounds and tropes of the Final Fantasy series (Uematsu created the soundtrack, after all). In the game, you can hear the Chocobo fanfare and even collect them as well. Your characters can do a special attack on your command when their bar fills up, but otherwise you just watch the combat unfold. The game shut down in 2019. Unfortunately, it left a lot to be desired with its incredibly unique art direction. A missed opportunity, you could say…or was it?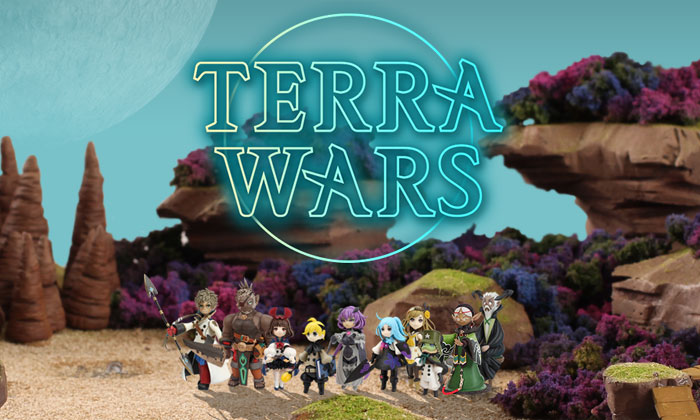 Fantasian – Finally tapping into true potential
Apple Arcade holds an incredible valuable proposition for game developers. Console quality games on mobile. Games that stand out from the crowd and have their own specially featured store location. There are many great games coming out soon that we can't wait to review for you, but today, we're going to show you something truly stunning. Sakaguchi put his brilliant mind back to work this year and also his love for miniature hand-crafted environments with their upcoming Apple Arcade exclusive, Fantasian.
Currently, Mistwalker is hard at work developing our next title on the Apple Arcade called FANTASIAN. This game goes back to my roots in the Famicom (NES) era, and I plan to bring this to life using dioramas. Development for the game is currently moving at full speed and I hope to see you all in the next "world."
Thank you for your continued support.

Hironobu Sakaguchi Producer, "Terra Battle" 5/29/2020
We couldn't find anything regarding the story of Fantasian, but the core behind the creation of the game is that the team at Mistwalker will be hand crafting sets, photographing them from as many angles as possible and then stitching them together digitally so they can zoom and out and rotate anywhere they want to. They will then drop in a 3D character and let you play in these real life sets! How insane is that? Fantasian is a game that 'should not exist,' according to Hironobu Sakaguchi. He didn't go into detail on this, but it could have something to do with the fact that he's 57 years old now and should be retiring in a few years. Retiring in Japan isn't necessarily the same as retiring in the United States. Creators generally remain active and hunker down on something they're passionate about as they continue creating. Also, according to this interview he did with Polygon, he was supposed to do nine Terra named games. Fantasian clearly isn't one of those, so we're wondering if something happened to those plans.
So if Sakaguchi is putting such a focus on finishing his current plan by the time he hits 60, what happens at that point?

In a post on Mistwalker's Terra Battle website accompanying the announcement of Terra Battle 2 and Terra Wars, Sakaguchi is quoted as saying, "I have become old enough that some call me a 'legend,' of the industry, but I wish to try and remain an active creator. Until the day I retire, I (secretly) wish to expand the 'Terra World' and create 9 experiences."

Sakaguchi tells Polygon the use of the word "retire" on the site is a mistranslation, though. Despite many in Japan looking at a Kanreki party as something that happens around the time people retire, and despite Sakaguchi aiming to finish the Terra franchise by that date, he says he has no plans to stop working.

He points to an 80-year-old singer and artist named Yuzo Kayama, who Sakaguchi saw perform in his 70s on Japanese television station NHK and was impressed by how young he looked and how well he could sing at that age.

"I want to be like him when I'm 70," Sakaguchi says.

Hironobu Sakaguchi's six-year, eight-game plan – Polygon
Below, you can see a number of tweets which show off some of the sets being built or finished. It's pretty insane once you take it all in. I've never seen miniatures taken to this level in my life. They include both indoor and outdoor environments which look very fantasy oriented. Exciting! We can't wait to see that airship in action though.
You can see more sets and even the potential protagonist in the gallery below. Sakaguchi says that "The backgrounds really remind me of a Playstation 1 era final fantasy game". Fantasian is still in early development, so we don't yet have a release date. Along with that, we still don't know much about it, but we're certainly excited to play it when it finally releases!
Potential Future Projects
In 2018, Nintendo filed a smartphone patent for The Last Story, one of Mistwalker's first games along with several other Nintendo properties. While this usually doesn't mean much as patents aren't always followed through with, it could always mean there is a port to mobile coming in the near future! This is pure speculation on an eight year old patent, but I thought it would be exciting to think of the possibilities with you all. Besides, patents last for twenty years, so there's no telling what could happen. The Last Story is a 2011 Nintendo third-person action role-playing game with stealth and strategy elements, with a fantasy action-adventure romance-drama storyline, directed by Hironobu Sakaguchi and developed by Mistwalker. It was available on the Wii, but I missed out on it, sadly.
You should be able to try out Terra Battle before it shuts down on the 30th of this month if you want to get a taste of it. Luckily, if it's not for you, Fantasian is going to be more traditional, even though its environments are being made with real models. Are you excited for Fantasian on Apple Arcade? We are and you can be sure we're going to cover it as it comes closer to its release.